Two Suspensions*
24. Januar - 7. Februar 2009
*kuratiert bei Leo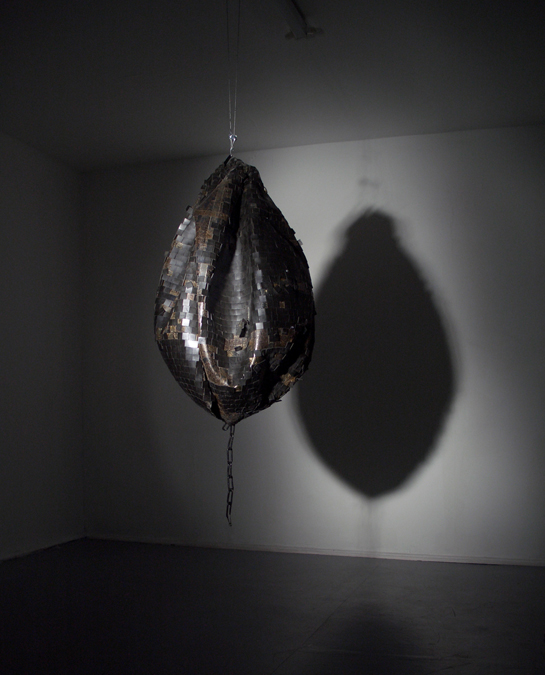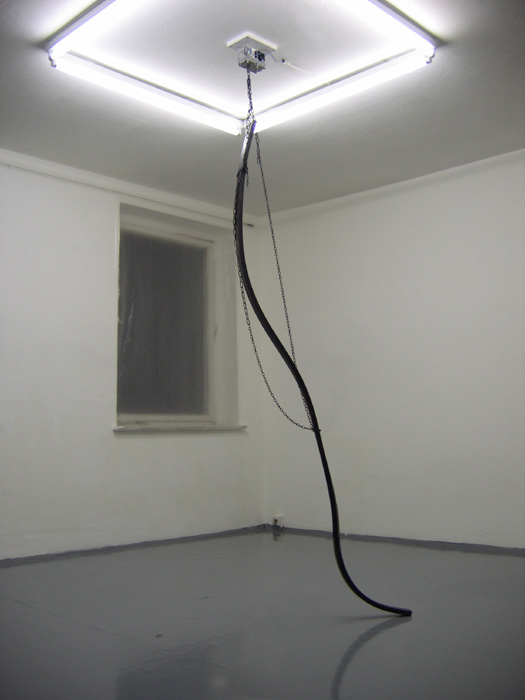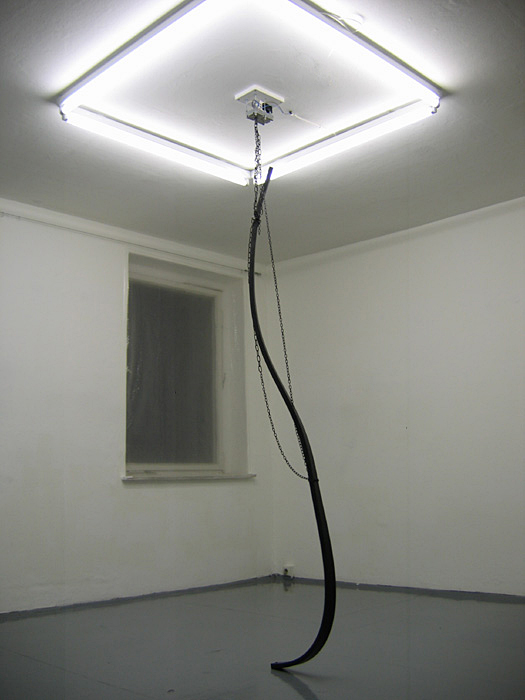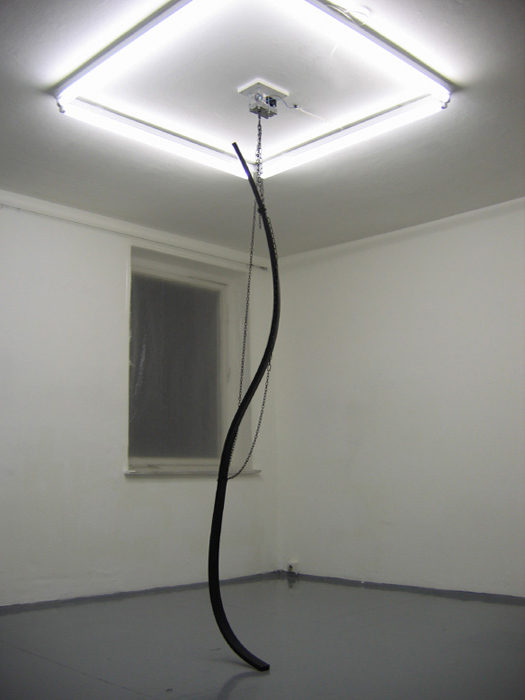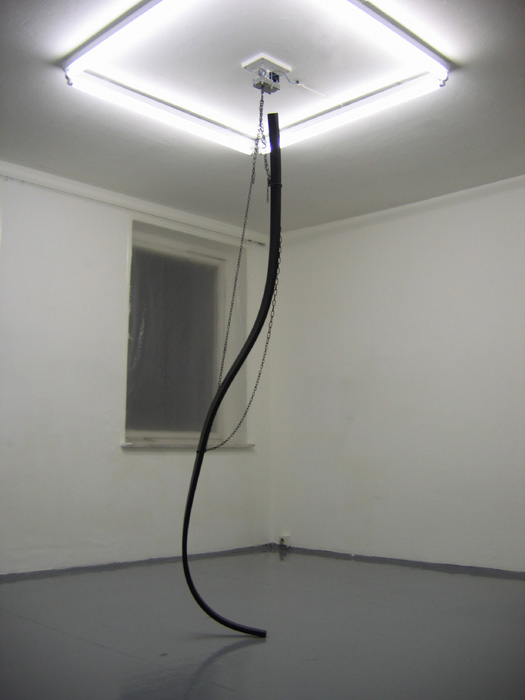 © Geerten Verheus, Height, 2009
Two Suspensions

For the exhibition at zwanzigquadratmeter I chose two suspended works: Height and Pit, The.
They are suspended both in space and in time - they both hang from a ceiling and both have been waiting for an appropriate occasion to be exhibited.

Height is a variation on the 2006 kinetic sculpture Lengths (By and Large). A rubber length, measuring the exact height of the space, draws a thick black curved line from the ceiling to the floor. In its effort to become the centre axis of the room by straightening itself up, it is helped and at the same time handicapped by its support system, which consists of an electric motor and supporting belts.

On Lengths (By and Large), Tom Morton wrote in Frieze Magazine:
'Sex,' claimed Andy Warhol, 'is the biggest nothing of all time.' Looking at Geerten Verheus' Lengths (By and Large), (2006) - a kinetic sculpture that formed the centrepiece of the group show 'Flutter', curated by the painter Michael Raedecker - it's hard not to hear the Pop artist's words whispering in your ear. A motor hummed on the gallery ceiling, winding up a long brass chain from which were suspended several dark lengths of beechwood. As the mechanism turned, the sculpture tensed, and you got to thinking about arched backs, curled toes and gristly erectile tissue. Finally, unable to take any more, Verheus' piece shuddered in grateful release and momentarily slackened, only for the whole Sisyphean process to begin once more. Call it a wheel of desire. Call it an automaton suffering from some pornographic strain of Obsessive-Compulsive Disorder. Call it what you like, frankly, because it's too busy to listen, caught up as it is with chasing the big 'O', the big zero, the big, Warholian nothing.


Pit, The is installed likewise, hanging from the ceiling in the center of the room.
This work is in fact the second life of the remains of the first version of The Midnight Sun (2005), irreparably damaged from heat in 2006. Re-constructed, The Midnight Sun is a disco mirror ball, made entirely out of rubber, and installed from the ceiling in typical fashion.
Pit, The, motionless and silent, recalls a club inferno, imploded, exploded and inverted. It shows the afterlife of an artwork.