↵
Elizabeth Tubergen
Shell
February 21st - March 6th 2020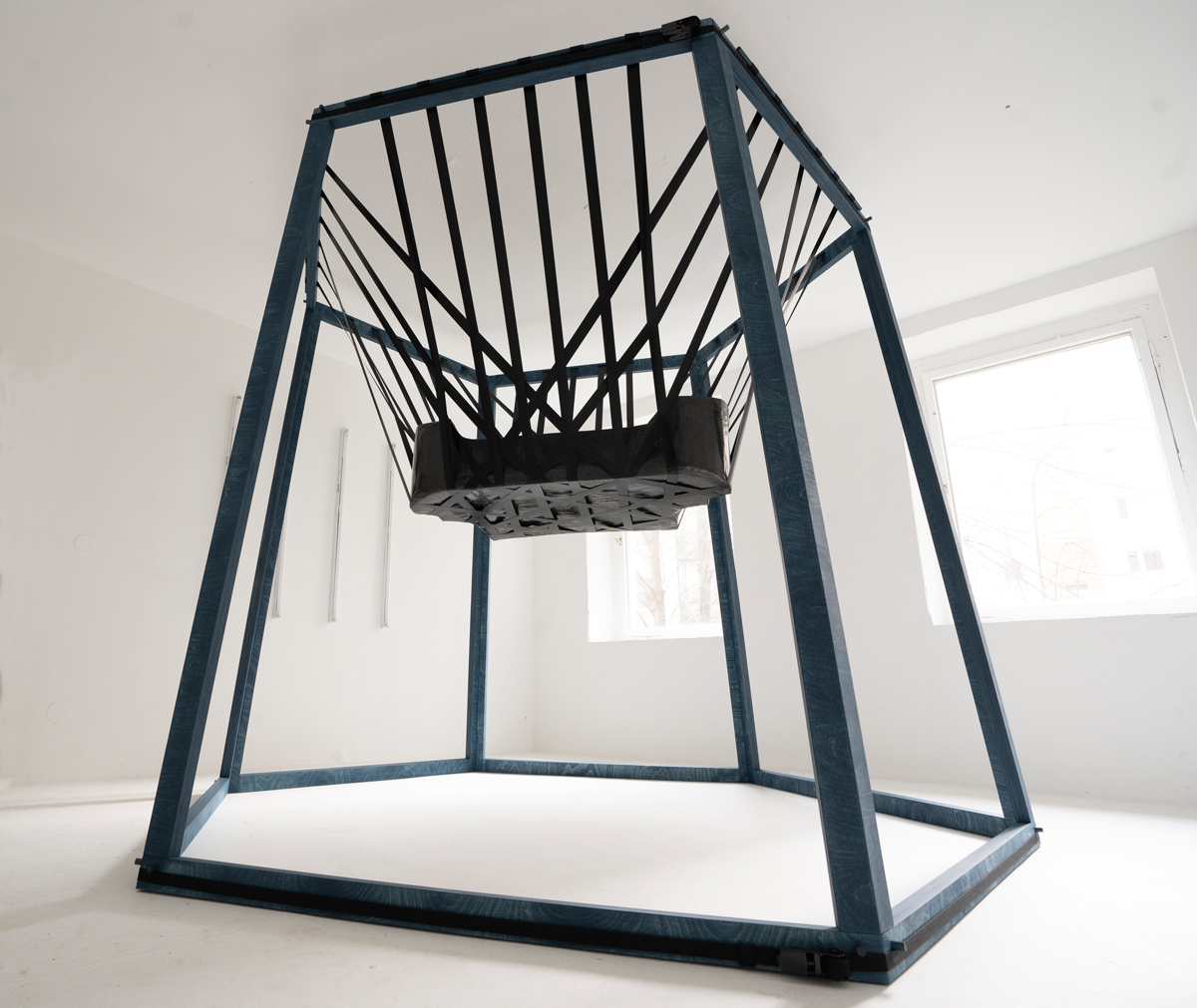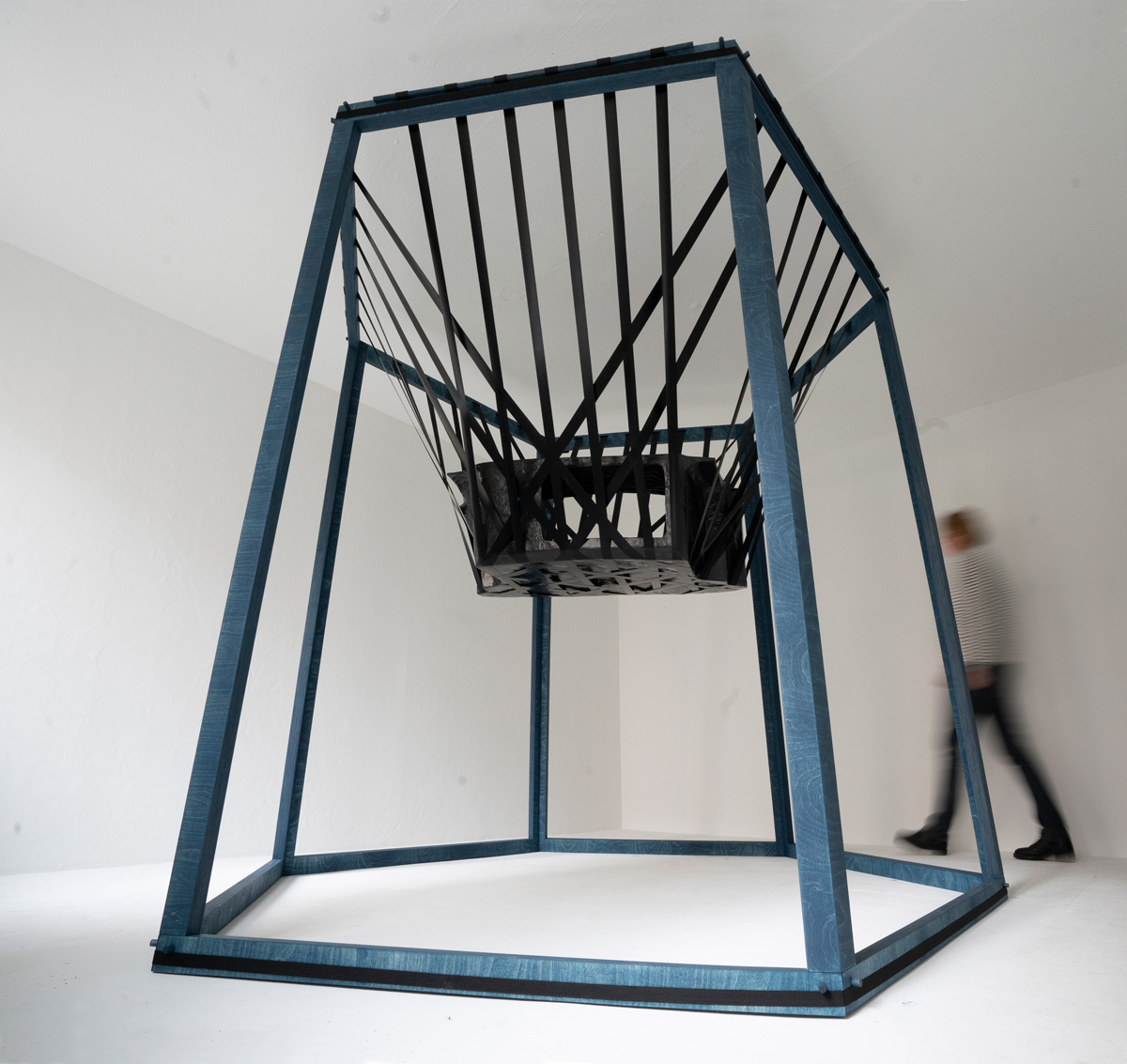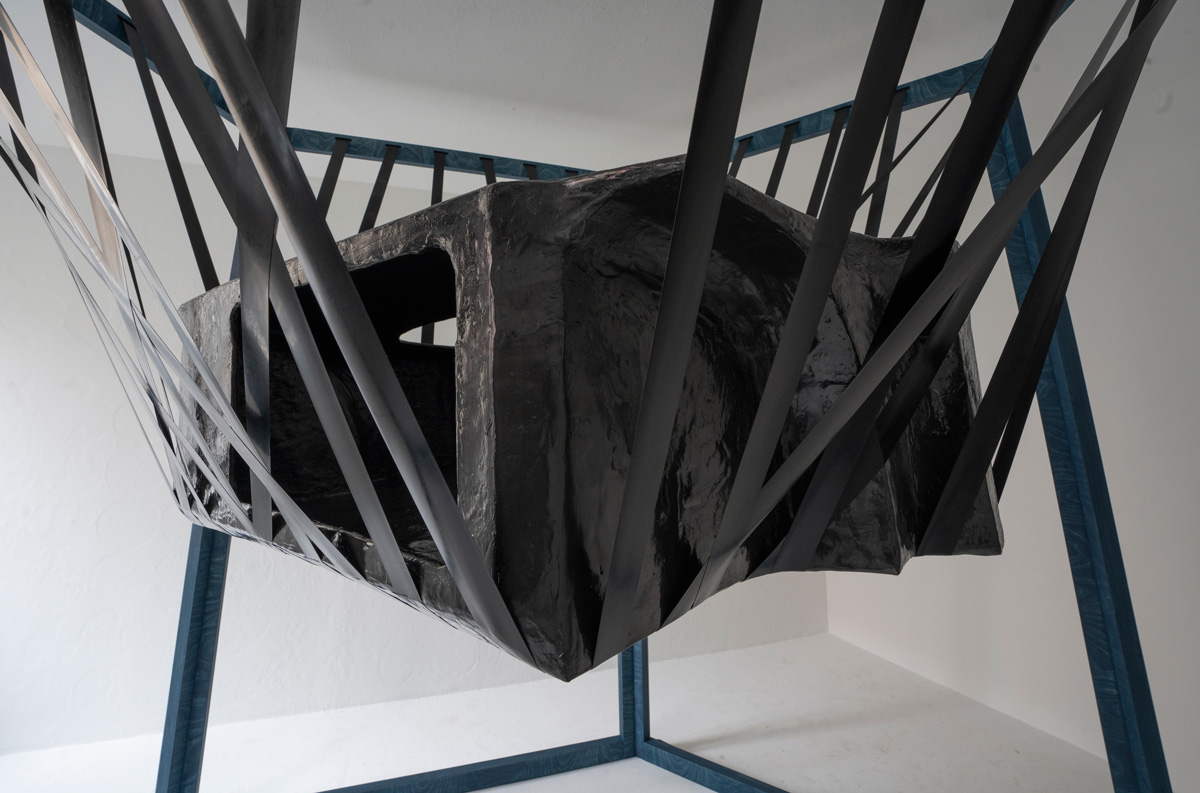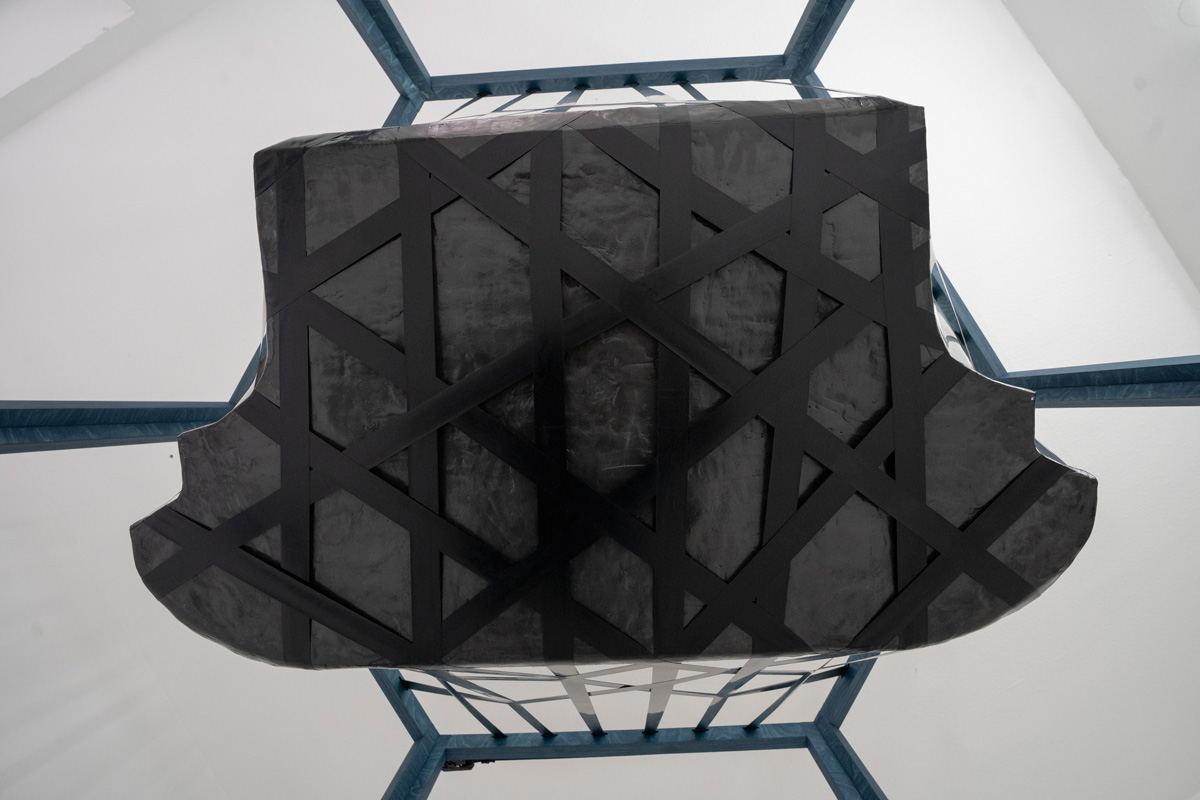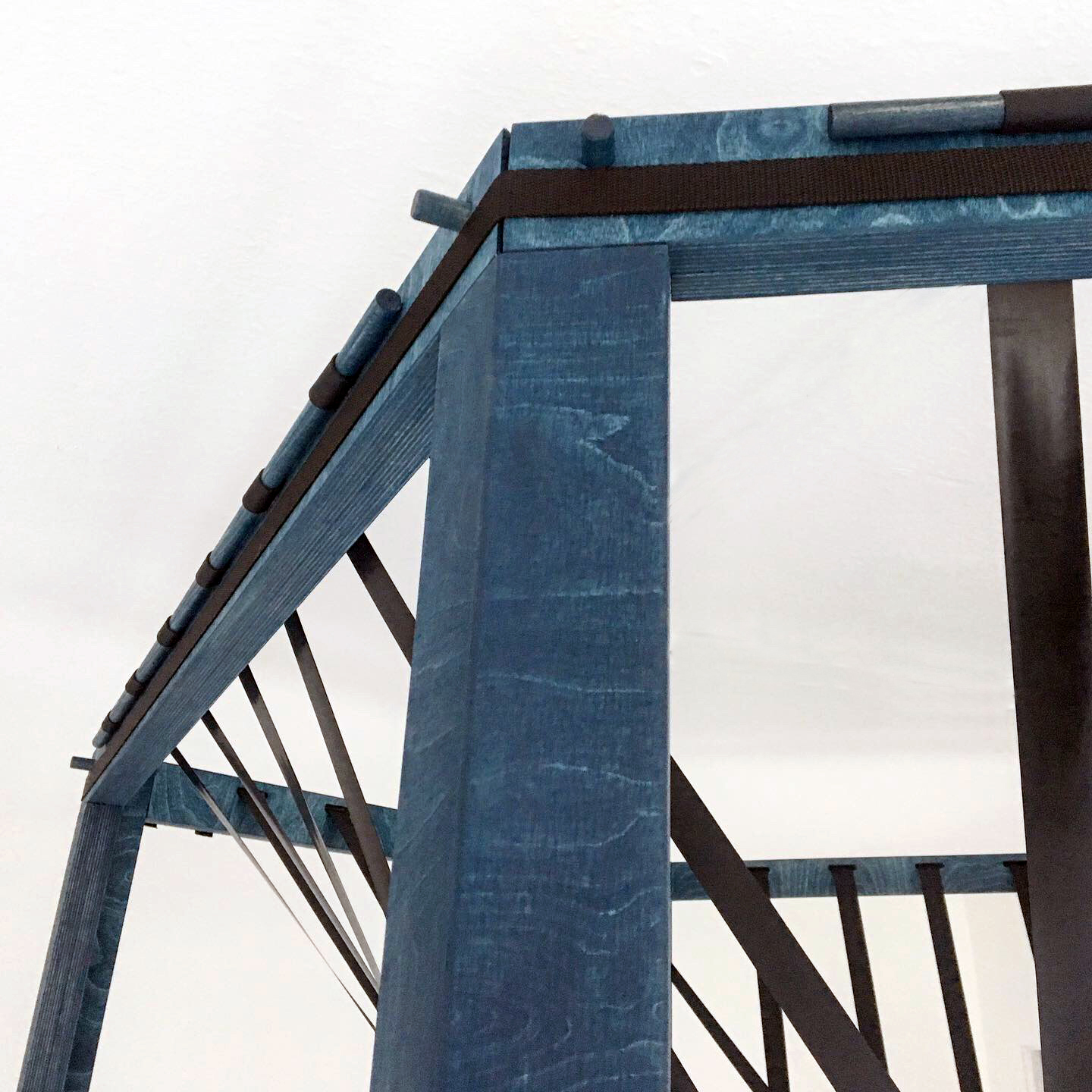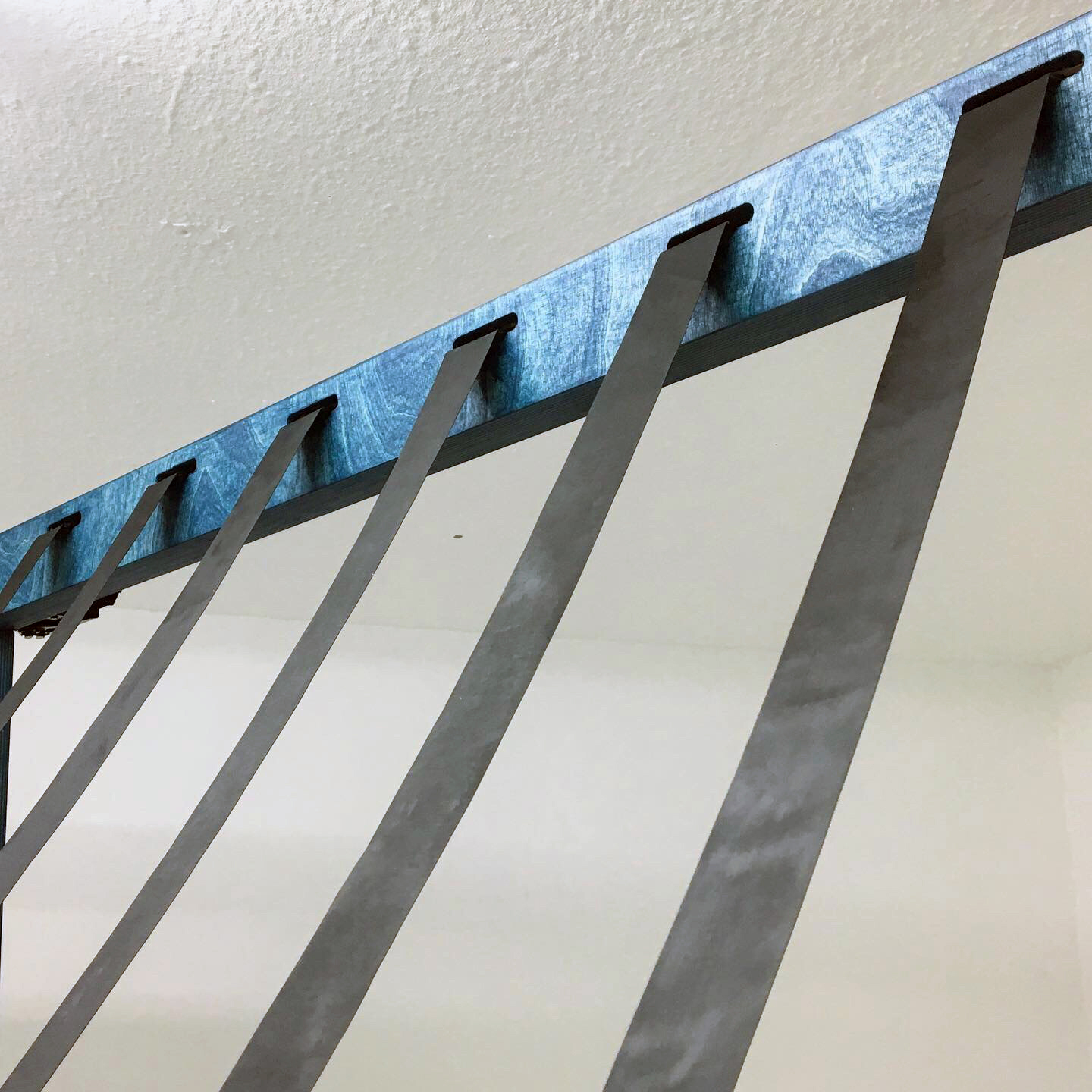 Exhibition views, (c) Elizabeth Tubergen, 2020
For ZQM, Tubergen has created a new, site-specific sculpture that nearly fills the room. A tapered, hexagonal structure stands in the center of the space, reaching from floor to ceiling. The structure acts as a loom - latex straps are woven from each side, cradling a shell-like sculpture. The shell is an approximation of a diesel VW Jetta TDI trunk, a car Tubergen lived in during a time of pain and change, and a car embroiled in VW's emissions scandal.

Tubergen writes of her work more generally: ''At its core, my work is an investigation of queerness as a spatial condition. Through creating and calling attention to undetermined, marginal and interstitial spaces, I envision a world in which the potential for dissent, dialogue, loitering, play, and otherness are valued. When I take up space with my art, I also take a political position aimed at making more space for difference. My work is contextually specific, large-scale, and can be experienced through bodily interaction that is not exclusively visual - it marks/directs the extension and passage of bodies in space. In this way, I create sculptures that are active sites.''

Tubergen is an artist living in Berlin for a year with a fellowship from the Humboldt Foundation and a residency at Kunstlerhaus Bethanien. Her work has been shown internationally at artist-run spaces and public institutions such as Tabakalera in Spain, Monster Truck Gallery in Ireland, the New School's Aronson Gallery in NYC, Islensk Grafik in Iceland, Vox Populi in Philadelphia, the UICA in Grand Rapids, and DeCordova Sculpture Park and Museum in Boston. She has been generously supported by grants from the Jerome, Rema Hort Mann, and Harpo Foundations, as well as fellowships from Socrates Sculpture Park, the Jacob K. Javits Foundation, the Fulbright Program, the American-Scandinavian Foundation, the MacDowell Colony, the Vermont Studio Center, and Ox-Bow Scholl of Art among others. Tubergen received her MFA from Hunter College in New York City in 2013, attended the Skowhegan School of Painting and Sculpture in 2015, and is presently a core faculty member in sculpture at Yale School of Art.
further infos under etuby.info